2022 GMC Hummer EV Preview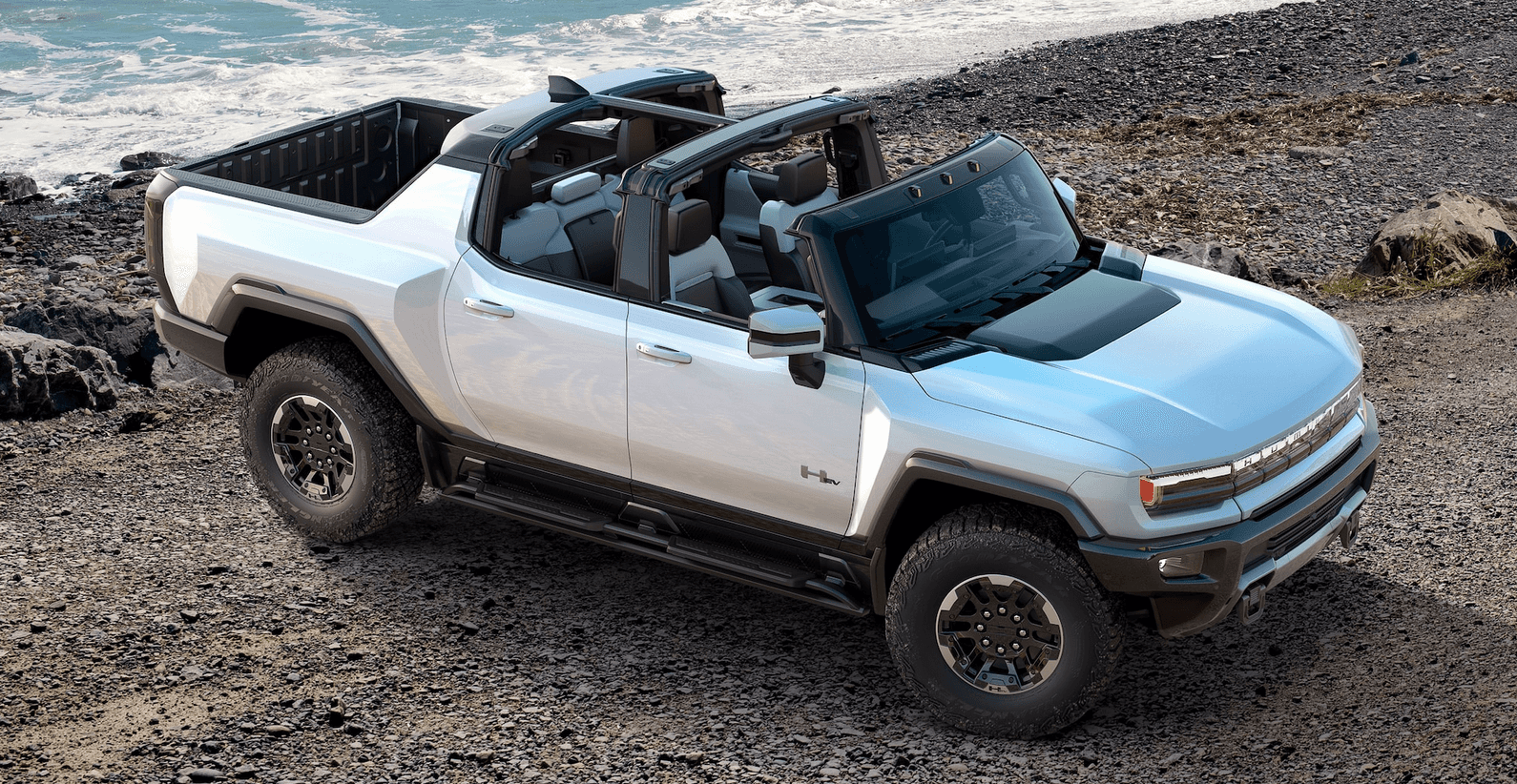 Overview
America's very own supertruck, the GMC Hummer, will be returning in the fall of 2021 as a 2022 model with an all-new, fully electric powertrain setup. Yes, you read that right: the unstoppable GMC Hummer will be offered as the world's first zero-emissions electric vehicle (EV), and it will provide the ample power and performance you'd expect of a hardwearing off-roader. The 2022 GMC Hummer EV will be issued removable roof panels, an optional adaptive air suspension called Extract Mode that can raise the vehicle approximately 6 inches, a Super Cruise driver-assist feature that enables hands-free driving with automatic lane changing on certain roads, and a unique four-wheel steering feature called Crabwalk that permits the vehicle to drive diagonally at low speeds. While there's still quite a bit we don't know about the upcoming GMC Hummer EV, we do have plenty of exciting information that'll keep you intrigued.
---
Trims, Powertrain and Towing
The 2022 GMC Hummer EV will be sold in EV2, EV2X, EV3X, and Edition 1 trim levels. The Edition 1 will come out first, followed by the others in early 2022. The EV2 and EV2X will be set up with two electric motors that produce 625 hp and 7,400 lb.-ft. of torque. The EV3X is given three electric motors and will deliver 800 hp and 9,500 lb.-ft. of torque. Now, if you thought those figures were astounding, then you'll be blown away by the Edition 1's tri-electric motor configuration's 1,000 hp and 11,500 lb.-ft. of torque. All-wheel drive will be standard for each, and thanks to the Watts to Freedom launch control driving mode, the Edition 1 will blast off from 0 to 60 mph in a mere 3 seconds.
As you can see, the 2022 GMC Hummer EV is nothing if not powerful. While the automaker hasn't released any specific figures related to towing and payload, a towing capacity between 7,500 lb. to 11,000 lb. and a payload capacity somewhere in the ballpark of 1,500 lb. to 3,500 lb. would keep it competitive in its segment.
---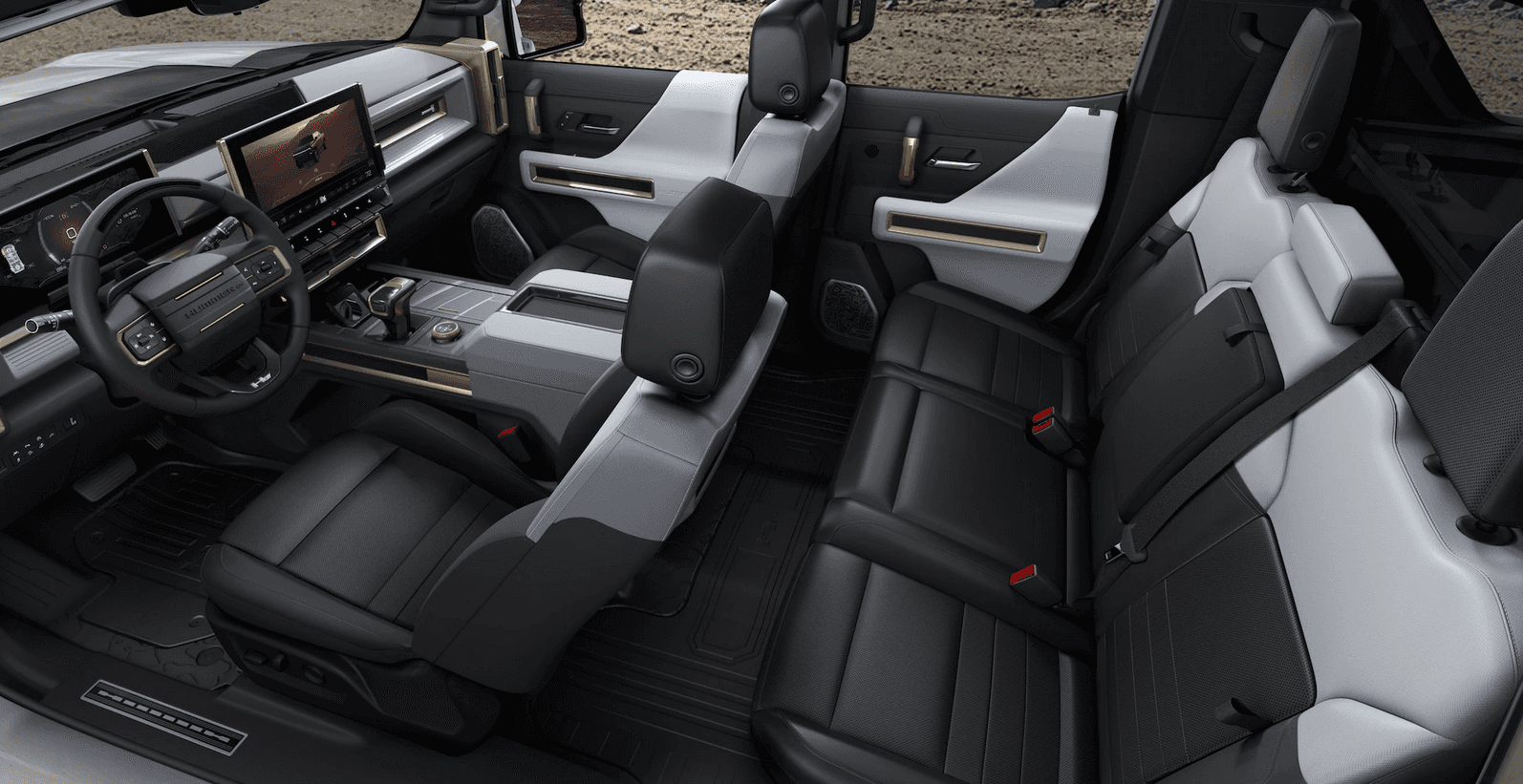 Range, Charging and Battery
The 2022 GMC Hummer EV will have GM's all-new Ultium battery pack, which yields a maximum driving range of 350 miles per charge (250 miles with the EV2, 300 miles with the EV2X and EV3X, and 350 miles with the Edition 1). GM has also said it will outfit the 2022 Hummer EV with 800-volt electrical architecture with 350-kW fast-charging capability that adds 100 miles of range in just 10 minutes. For those who don't have access to a DC fast-charger, the 2022 GMC Hummer EV will still be able juice up at a regular charging station or at home with a designated adapter. To top it off, the One-Pedal Driving and Regen on Demand steering-wheel paddle shifters are capable of harnessing the power of regenerative braking – capturing energy created by the stopping process that would otherwise be lost – to help maximize overall range.
---
Notable Features
One of the 2022 GMC Hummer EV's most novel features is its industry-leading Infinity Roof with modular Sky Panels that results in a pleasant open-air experience; transparent panoramic sky panels are offered if you still want to see the world with the comfort of climate control. The vehicle's distinct UltraVision system provides an assortment of underbody cameras to help you see what's going on below when you're off-roading.
Specially engineered 35-inch Goodyear Wrangler Territory tires deliver optimal balance for both on- and off-road performance, and the fully armored underbody protects the otherwise vulnerable mechanical bits. Inside, you'll be greeted by an abundance of upscale features and comforts. Infotainment duties are handled by a 13.4-inch touchscreen, and a fully digital 12.3-inch digital instrument cluster adds to the modern aura.